Cusco of dream and Machu Picchu 3 days 2 nights
Mystical sacred city, considered the capital of the Tahuantinsuyo Empire with a great historical and architectural legacy. Surrounded by green valleys with imposing tourist attractions, culture, tradition and still latent faith. Known as the navel of the world for being the political and territorial center of the Inca Empire, the department of Cusco shows us an impressive geographical variety from natural mountain ranges and reliefs, to rivers such as the Urubamba.
The city of Cusco, located in the Andes mountain range at 3 399 m.a.s.l., was declared the Historic Capital of Peru, being an impressive sample of high Inca engineering that had stone as its main tool. Like places like Choquequirao, Sacsayhuaman, Qenko, Tambomachay, Ollantaytambo and especially Machu Picchu, an architectural jewel built with the wisdom of the ancient Incas that served as the political, religious and administrative center of the time.
Day 1:  Pick up from your hotel at 1:10 p.m. to 1:20 p.m., first visit The cathedral, then we walk to Qoricancha, board our bus and climb to Saqsaywaman, Qenqo, Puca Pucara and Finally Tambomachay.
Day 2: Transfer at 05:50 am in a private transport to Poroy train station, trip to Aguas Caliente for 4 hours, we will arrive to Aguas Calientes and take our bus up, visit Machu Picchu for two hour half to three hours, after we will take our bus down and we will go to train station, finally arrive at Ollantaytambo and we will take our bus to return Cusco.
Day 3: Tranfer to the Airport.
Reception at the Cusco airport and transfer to your lodging in our City. After settling in the room you will be given the option of drinking the famous coca tea since it is very good for optimal acclimatization and then you will be shown some places where you can go for dinner and return to your overnight accommodation.
At 13:20 Pick up from your lodging to make the City Tour heading to the city center and then visit 2 points:
The Cathedral and the Temple of the Sun Qoricancha  (in these places you will have a guided tour of 30min. Approx).
Then a transport will take you to the top of Cusco where the 4 ruins or archaeological centers are located: Tambomachay, Qenqo, Pucapucara and Sacsayhuaman. 18:30 approx. Return to the City of Cusco leaving them in the center of the City and then you can choose the best place to have dinner.
Meals: Breakfast
Accommodation: MAMA´S House
Around 05:50 am our transfer will pick you up with our private transport to go to the Poroy train station that is 30 minutes from the city of Cusco there we will take the Expedition train from 06:40 to the Aguas Calientes town which lasts an average of 3 hours and 30 minutes after arriving at the Aguas Calientes station, a company staff will wait for you with your names and we will go to the bus station to make a small bus trip to the Citadel of Machu Picchu taking a tour of 30 min. Approx.
Before entering Machupicchu you will meet our guide and obviously with the rest of the group then you must show your documents to enter the Citadel of Machu Picchu and start our tour visiting the most attractive places of the place, where one of the most recognized examples is located of engineering, architecture, assembly and carving in the different streets, squares, ceremonial fountains and temples, surrounded by abundant vegetation. The citadel is located at the top of the mountain a height of 2490 meters above sea level.
From this point you can see the mountains as they are: the Huayna Picchu, the mountain Machu Picchu, the mountain Putukusi and the Inti Punku to all these mountains can be visited on foot.
After the tour you will have an average of an hour and a half to visit the Inca Citadel on your own and take photos to remember, it is recommended to leave Machupicchu around 16:30 and leaving Machupicchu you will take the bus to the town of Aguas Calientes where you can find the restaurant you like to eat something while waiting for the train to leave.
The train schedule we consider is 18:20 hours (At the time of your confirmation you will be given the exact time of your return), in case you want a special service such as Vistadome there will be an additional charge of US $ 20.00 per route and per Please just send us the request and we will reserve it in advance by sending you the options. The train considered in the service will be to Ollantaytambo and then there will be a private transport that will bring them to our City.
Meals: Breakfast
Accommodation: MAMA´S House
Transfer to the airport for your flight back to Lima or flights with Extension.
Meals: Breakfast
It includes
In and Out Transfer Services.
Transfers to all the attractions that are considered in your Package.
02 Nights at our MAMA´S House Accommodation in our City (Breakfast Included) https://www.facebook.com/mamahousecusco/.
City Tour (Guided Service Cathedral, Qoricancha, and 4 Ruins * Sacsayhuaman, Qenqo, Pucapucara and Tambomachay).
Entrance ticket to the Citadel of Machu Picchu.
Bus ticket up and down from Aguas Calientes to the Sanctuary of Machu Picchu.
Round Trip Train Tickets (Expedition Service).
Guided Tour in the Citadel of Machupicchu for an average of 2 ½ hours (Small Group).
Transfers Cusco – Poroy / Ollantaytambo Station – Cusco (Return to your Accommodation).
Meals indicated in our itinerary.
Not included
Flights ticket.
Tourist Ticket to carry out the City Tour and the Sacred Valley tour (S /. 130.00).
Entrance tickets to the Cathedral of Cusco S /. 25.00.
Entrance tickets to the Qoricancha or Temple of the Sun S /. 15.00.
Student Card has a discount of US $ 20.00 (Previously sent from your Student Card with expiration date).
If the customer is under 17, they automatically have a discount of US $ 20.00.
Meals not indicated in the package description.
Entrance to the Hot Springs of Aguas Calientes (S /. 10.00).
Snack, drinks and soft drinks.
Items to bring
Original Passport and the entry to Peru card.
For the main tour you only need to carry a small day pack.
Water to drink 1.5 Lt.
Camera.
Rain jacket/poncho.
Change of clothes.
Basic toiletries.
Sun lotion/sunscreem, hat for sun.
Insect repellent.
Torch.
Comfortable sturdy shoes or hiking boots.
Extra money.
FAQ
Price
PRICES
Adult Price (Based on a Double Accommodation): $ 350.
Student Price (Previously sent from the Student Card indicating the expiration date or in children under 17): $ 320.
Adult Price Only (This amount to cover the difference of the Lodgings in Cusco, Town of Aguas Calientes, Puno and Arequipa): $ 380.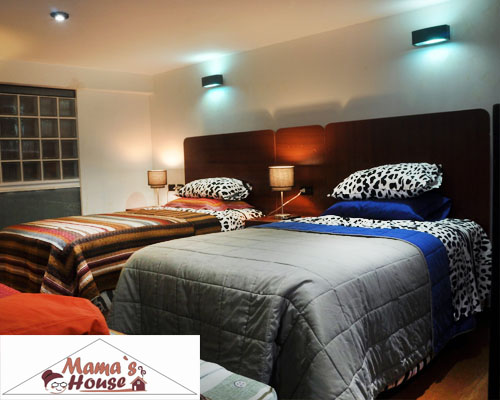 MAMA'S House, is a warm place which will allow its tourists to feel at home with its very confirmable rooms, we are located just 15 min. from the Plaza de Armas and by taxi 5 minutes away.
Room type
Triple Room, 3 Twin Beds | 3 Twin Beds.

Double Room, 1 King Bed.
Services
WiFi
Transfer airport
Breakfast